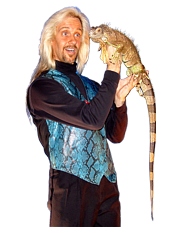 What Zoo To You Brings To You
In the space of an hour you'll have the chance to hold, pet and have your picture taken with some of the most popular exotic pets around. Many are the same interesting creatures that make the reptile house at the World Famous San Diego Zoo "the most popular attraction there". (Source: Tour Guide, San Diego Zoo) Along with small mammals, flying feathered friends and creepy crawly bugs, we bring enough to thrill everyone. This is how we do it!
YOU
All you need to do is supply us with private access to the space you pick to be our "Stage". From there we will set up transport cages that will be covered from view by a curtain to keep the animals a surprise. Then invite everyone in to sit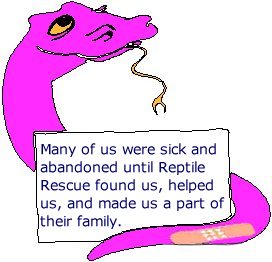 around our stage area and the show begins.

US
The audience is informed that behind this curtain we have several animal cages that are marked ace, two, three, Jack, Queen, King and so on. This is where the first child (typically Birthday boy or girl, Class President, etc...) gets the opportunity to pick a card. If they choose the 10 of diamonds then the "Star" will take center stage as the Zoo To You assistant informs us that # 10 is busy, so they need to pick another card. This is where the fun starts because every time the child goes to pick a card it is always the same card no matter how many times we take it out of the deck! As some of the family or friends get a chance at the deck, they pick other cards with no problems. We bring out their animals one by one and keep returning to the "Star", but it's still the same card over and over again. Many of the other kids have had their pictures taken but the *Star* is still picking #10. Dozens of laughs later, cage # 10 is ready and our "child of the hour" will get the long awaited chance to get their souvenir photo with their animal. Is it a giant lizard? How about the 12 foot Albino White Python? You'll find out when we bring Zoo To You to your special occasion!!!

Why our show beats the Competition every time...
Your kids are the stars not us! They direct the show with their questions and ideas. Even the shyest member of the audience feels comfortable holding our well-behaved animals. We believe your party is a place for a good time. We focus on fun, as for being educational--well, that just kind of happens.

How we care for our stars...
Cleanliness is job one each day. Followed by fresh air and natural sunlight. Cages are large and spacious enough for each animal to move freely and build strong muscle tone. All are fed high quality diets full of vitamins and of course special treats at Show Time to make Zoo To You fun for them too! We are proud to say that none of our reptiles eat any live food! In the wild it's natural, but in our compound we are able to step in and eliminate needless suffering.
Who we are...
At August Entertainment we do not use "week-end" showman. Our performers have experience that goes back over 20 years in the entertainment industry.

Where we have been...
Our animals have been around the world, from Zurich, Switzerland to major motion pictures here in Nevada. Maybe you have seen us on "Animal Planet" or "Ripley's Believe it or Not". We have also appeared various shows on FOX, NBC, CBS, ABC, TNN, Showtime, and Comedy Central. Your home could be next!
Who we have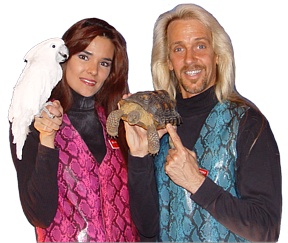 worked for...
"Thank you very much for your hard work and enthusiasm at this years MGM Grand Scream Park"
-Chris Coaley, Director of Entertainment,
MGM Grand Hotel Cerebral Palsy Telethon

"It was delightful having you at the United Cerebral Palsy Telethon*you two are wonderful professionals with just the right amount of nuttiness needed..."
-Patricia Clem, Public Information Director
United
"Your show is undoubtedly one of the finest I have seen in the industry, appealing to audiences of all types."
-
Bill Houghton
Chairman Las Vegas Jaycees State Fair

"A huge success. Our students were very entertained and excited... I have received many compliments for hiring him..."
-Mary Massey
Associated Students of Fresno Pacific College


Via Email
Subject: My son's birthday experience

Hello,
I just ran across your website and thought I would comment on the wonderful ever-lasting experience that my son who turned 8 in Aug, 2004 had. I don't usually comment but you left a profounding affect that a year later we still talk about how great your entertainment was. Not to mention the souvenir photo and snake skin. It's all worth it! The money, the smiles on the little ones faces and your personalities with the children! Bravo!
Dee

"It's been two years since Zoo to You was at my son's Birthday Party and he still has this photo in his room. Thanks for a great show."
Cyndi


Click to read more Thank You notes...